Aloha!!
I have woken up today with a massive craving for stir fry. I know that's unusual for this time in the morning (currently 9am a I'm writing this) but I like to plan my meals in advance and today my tummy has demanded stir fry. I like stir fry a lot as it's quick, easy and you can basically completely make it your own.
Here's my simple stir fry recipe if you fancy giving it a go.....
What you will need:
1 x Wok
varying bowls (for preparation)
varying pans (for cooking)
2 x wooden spoons (one for meat, one for veg)
Ingredients:
Pick your protein - anything works here really just go with whatever your heart desires
Veggies - I usually pick spring onions, broccoli, cabbage, peppers and carrots but again go with your gut!
Soy sauce - light or dark
salt + pepper (seasoning is important)
Noodles - any long type is great for this recipe
1) Preparation is key:
Make sure you have everything ready to go before you actually start cooking. Pick out your favourite veggies and chop them up small to make sure they cook faster and pre-dilute your soy sauce. I learnt this from years of being bored watching my mom cook and reading the recipe books she had
(Nigella, Hugh, Jamie, the classics etc).
You are meant to use 1 part soy to 1 part water to keep your stir fry from burning and to lock in that soy flavour. If your a bit nervous of this just grab a packet of pre-made supermarket sauce and add when cooking the veggies later - easy!
2) Know your noodles:
Basically this means make sure you know how to cook the noodle you have picked, some need some extra tlc to be super tasty and you need to allow time for that. For this recipe any long noodle is good, I like won ton or Lo Mein noodles.
3) Cook you chosen meat:
As this is a basic recipe I've picked chicken as my protein but feel free to go crazy and try anything. As my mother is a vegetarian I tend to either add Quorn pieces that have been marinating or prawns. Make sure everything is cooked through before serving.
4) Cook the veggies:
I tend to sear off my veggies to to add colour and texture. Make sure you put in the veggies that take longer to cook in first like carrots and broccoli as I find there's nothing worse than a random hard vegetable in a stir fry. You can do this alongside cooking your protein if you have a spare pan and want to do this super speed!
5) Chuck it all in together: Throw all of the above in the wok together and stir for a minute or two just to make sure you have even coverage and its all the same temperature.
6) Add any extras:
I adore Dark Soy sauce so for me that always gets added but you could throw anything on there like chives or bean shoots.
Stuff your face :)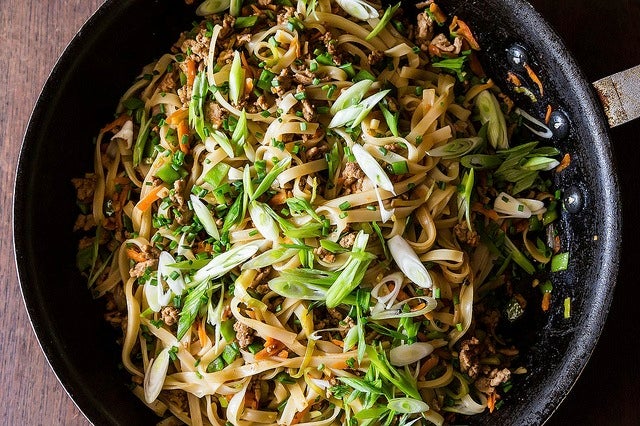 If you get to give this a go I hope you find it easy and yummy :)
Enjoy!
*All images by LifeHacker*